MODULBOX XTS 1M and NEW 2M XTS DOUBLE DECK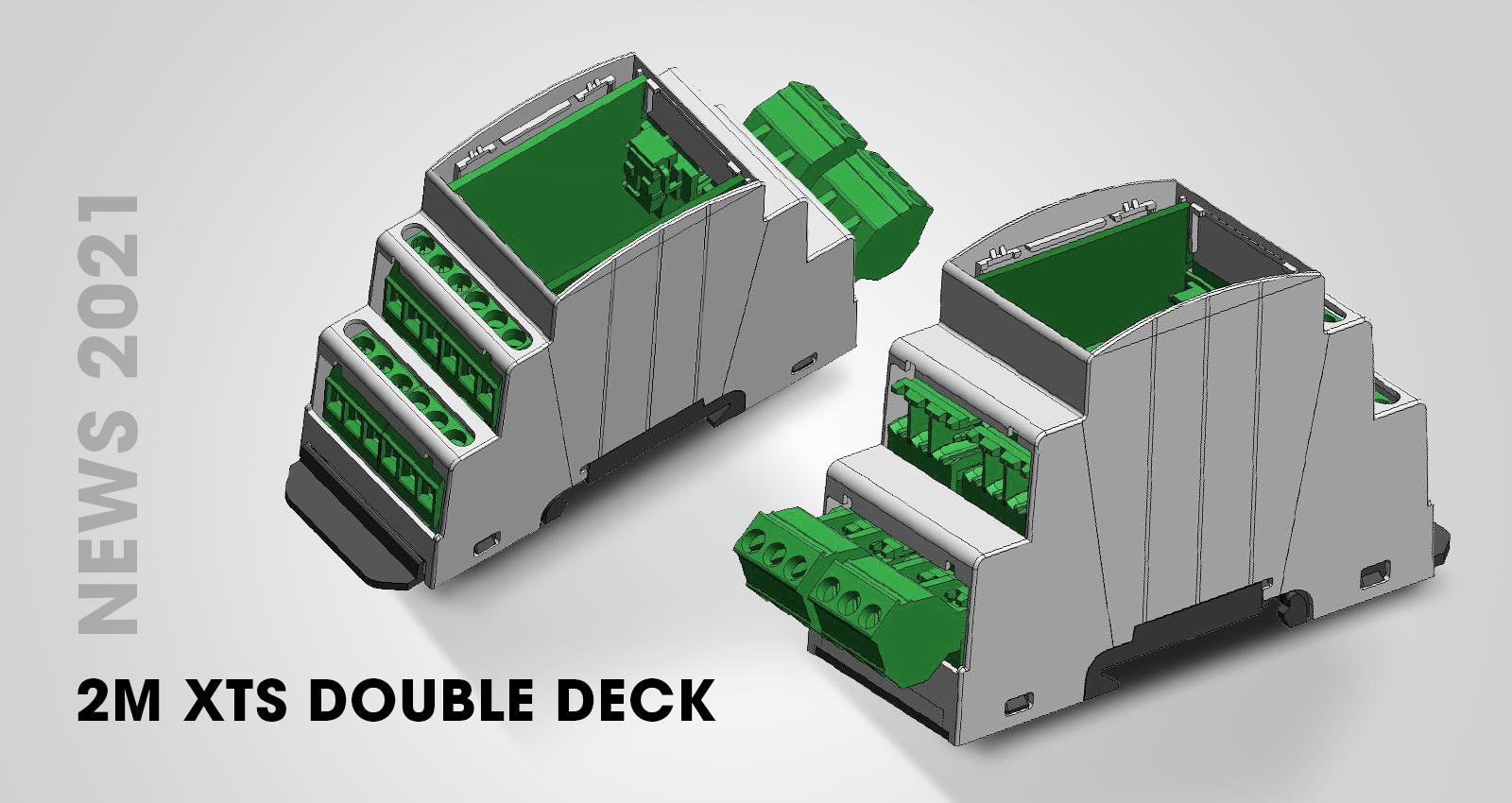 Dear customers,
Italtronic is always attentive to market trends and is often the engine of change.
When we started the production of the MODULBOX XTS 1M, we sensed that the market was looking for very small enclosures especially for home automation applications where the spaces available on the electrical panels are increasingly reduced.
The success achieved so far has convinced us to invest further in this line and in 2021 we will also produce the 2M version with exactly the same characteristics as the existing model.

THE TECHNICAL ADVANTAGES WILL BE:
• Double terminal deck on the same circuit on both sides, for a maximum total of 24 ways with 5mm pitch on the same 2M enclosure;
• More competitive price than the XTS 2M series, thanks to the patented base that incorporates the DIN rail fixing system;
• Possibility of using 2 vertical circuits optionally connected by pins strip;
• Standard range of versions type A and C, for plug-in and / or fixed connectors, or closed;
• Versatility for the connector outputs, because they can be customized with mechanical machining, starting from the closed version or, in the case of quantities, starting from 5kpz directly from the mold, with a cost contribution.
We also announce that from January 2021, we will change the material and the color of the base of the current 1M XTS model, which will become BLACK. This feature will also be present on the new 2M.
Unfortunately, on the market more and more often there are DIN bars that do not comply with dimensional regulations. Following the needs of our customers, we decided to facilitate installation and make our enclosures compatible by modifying the current base of the 1M XTS.
The mechanical dimensions of the enclosure and the pcb will not be changed. The technical specifications of the new material will be available directly on the WEB.
We suggest that you ask us for samples with the new version of the base, recognizable by the black color, in order to verify the new versatility of the product.

On this occasion, we also inform you that there have been failures in sending newsletters to new subscribers. However, you can find them all directly on our web at the following LINK
Greetings and thanks for your attention
Sales Management